Drumlin Yarnspinners welcomes Colin Urwin to the Market House, Monaghan on April 25th @ 8pm.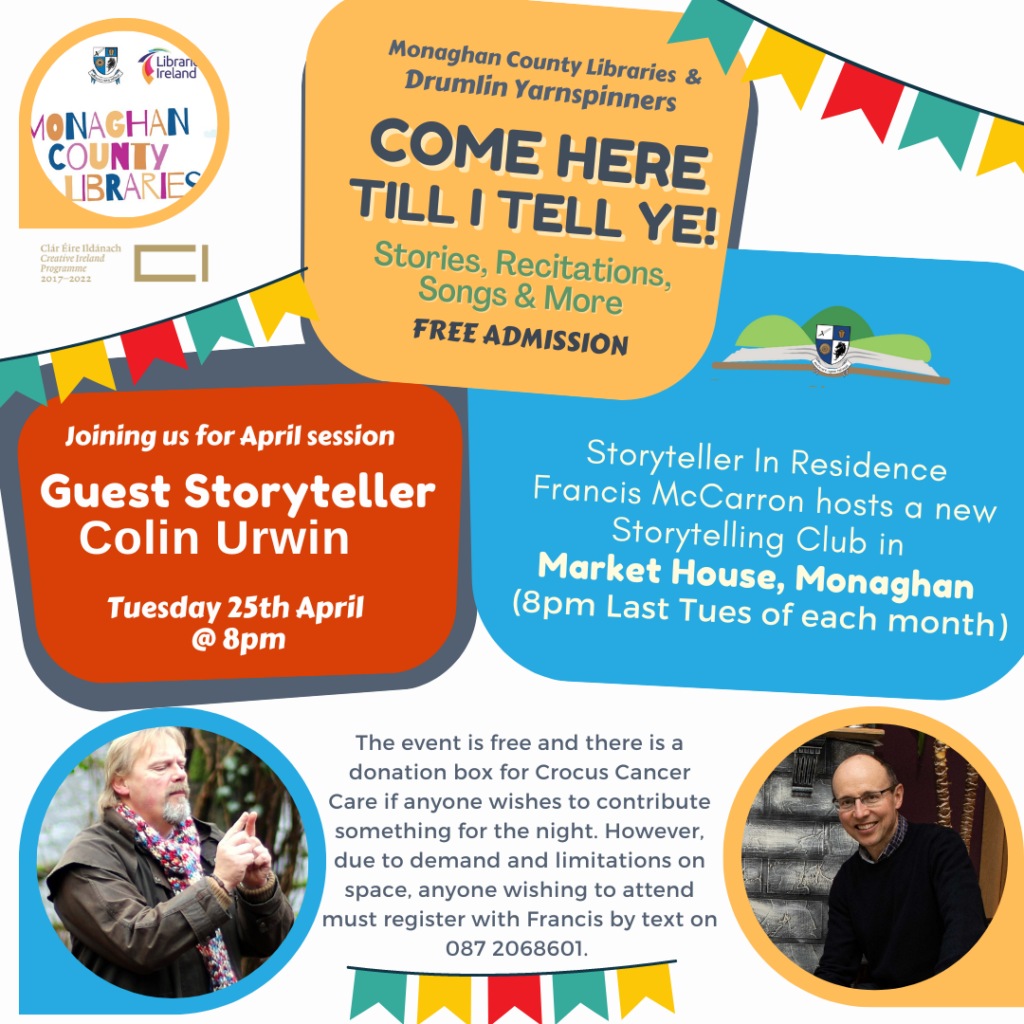 Drumlin Yarnspinners is a monthly oral storytelling session that has settled down in the Market House in Monaghan on the last Tuesday of every month. Each session lasts approximately two hours and includes a break for a cup of tea. The guest teller opens and closes the session and there are contributions from the audience along the way.
The sessions are led by Monaghan Libraries Storyteller in Residence, Francis McCarron, who has been sharing tales throughout Ireland for over 30 years.
New tellers and listeners are always welcome.
Storyteller and singer/songwriter Colin Urwin from the Glens of Antrim is the guest storyteller at this months' Drumlin Yarnspinners session on Tuesday, April 25th at 8.00pm. Colin is one of Irelands leading oral storytellers and he has appeared on stages across the world, most recently in Scotland, the USA and Morocco. His rich and varied storytelling repertoire includes many time-honoured Irish and Scottish folk and faerie tales on which he always stamps his own distinctive mark, and he is also well known for his humorous and sometimes poignant recitations after the long-established local tradition. His is a unique and original voice.
The event is free and there is a donation box for Crocus Cancer Care if anyone wishes to contribute something for the night. However, due to demand and limitations on space, anyone wishing to attend must register with Francis by text on 087 2068601.
Drumlin Yarnspinners is part of the Monaghan County Council Library Service Storyteller in Residence project. Funded by Creative Ireland, it aims to keep alive the ancient art of oral storytelling. It also seeks to gather local tales from across Monaghan. For more information contact Francis: email fmccarron@hotmail.com / 087 2068601.