Monaghan Social Inclusion Week 2023 takes place from Monday 13th November to Sunday 19th November. The initiative was officially launched by Cathaoirleach Councillor David Maxwell at the Monaghan Migrant Support Centre, which is located at the YWCA, North Road, Monaghan. It follows on from a very successful programme of events in 2022 and this year's programme sees an increased and wider programme of events.
The initiative is being organised by the Local Community Development Committee (LCDC) Equality Subgroup which is made up of representatives of the key service providers in Monaghan. Social Inclusion Week is an educational and insightful week which provides opportunities for service providers, community groups and educators from across the county to showcase the great work which they undertake in our communities. Local community groups were invited to take part in Social Inclusion Week 2023 with an advertising campaign inviting them to submit their events to be included in the Programme of Events.
Speaking at the launch of Monaghan Social Inclusion Week 2023, An Cathaoirleach, Councillor David Maxwell said "I am delighted to launch Monaghan Social Inclusion Week 2023 which is an initiative which aims to promote inclusion and integration, as well as devising new and exciting ways to ensure citizens from all backgrounds and identities are included in Monaghan.
I would like to acknowledge the many organisations and community groups that are organising all the events taking place throughout Monaghan during the week. I would also invite the public to come out and attend events, and show their support for Social Inclusion Week".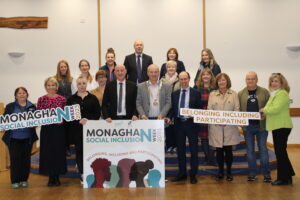 Speaking at the launch Robert Burns, Chief Executive of Monaghan County Council, said "Social Inclusion Week promotes the very positive  work which the service providers and community groups undertake to reduce discrimination, racism, poverty and social exclusion in Monaghan. It also provides an opportunity to reflect on the many challenges faced by vulnerable members of our communities. Social inclusion must be a priority in our communities in Monaghan and a responsibility for all.
Social Inclusion Week is a very important event on Monaghan County Council's calendar and throughout the week there are many great events for people to attend. I am delighted to see that the number of events continues to increase this year and I would like to acknowledge the great work from all involved in the initiative".
For a updates on Monaghan Social Inclusion Week 2023 please see Monaghan County Council's social media accounts during the week of the programme.
Please find a full programme of events which will take place during Monaghan Social Inclusion Week 2023 below:  Monaghan Social Inclusion Week 2023 Schedule of Events