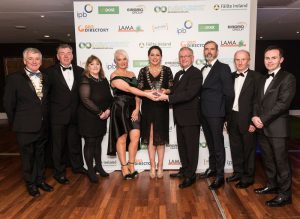 Monaghan County Council were absolutely delighted with the success of the "A MINUTE MATTERS" campaign which won the Best Disability Access & Inclusion Initiative at the Local Authority Members Association National awards ceremony on Saturday 3rd February in Croke park.
The overall aim of this project is to raise awareness among the people of county Monaghan of the problems people with a disability permit to face when people without a badge park in accessible parking bays.
The project which is about awareness rising, advocacy and empowerment engaged the skills of young adults with a learning disability from Drumlin house Training Centre and the Monaghan Latch on programme to make a short film about the difficulties that are caused for people with a disability when people park illegally in designated disabled parking bays. A consultation carried out by Monaghan County Council with local communities highlighted the ongoing problem of people parking in disabled parking bays illegally. This causes a lot of problems for people who need those spaces.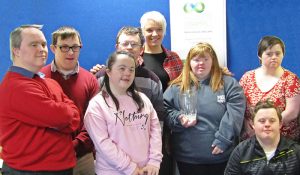 The slogan "A Minute Matters" was chosen because many people think it's ok to park in disabled parking bays for "a minute" but what this project is saying is "A Minute Matters" to someone who needs that space!
The project was a huge success, with had great support from the local Gardai and Traffic wardens who greatly welcomed the initiative. The Gardai and traffic wardens have zero tolerance for people abusing disabled parking bays and anyone parking in a designated disabled parking.
Monaghan town has almost 1200 parking spaces and 43 disabled parking bays, so it is really important to badge holders that the spaces are available to them when they need them.
So as the video says, " If you don't have a badge PARK SOMEWHERE ELSE"
Photos include LAMA Awards last weekend and the members of the Latch on group who starred in and recorded the Minute Matters youtube video
Check out the video on YouTube "A MINUTE MATTERS"
Parking in a Disabled Parking Space is a Criminal Offence. Monaghan County Council will continue to enforce this law. In this clip the Co Monaghan Latch Group highlight How a Minute Matters if you park in a disabled parking space in this brilliant clips . We need your support to make parking in disabled car parking spaces a thing of the past Castleblayney Shop & Stay Castle Saunderson Carrickmacross Chamber of Commerce Emyvale Monaghan Sports Partnership Arch Club Monaghan Clones Notice Boards Castleblayney News Monaghan Integrated Development https://monaghan.ie/communitydevelopment/disability/

Posted by Monaghan County Council on Friday, February 3, 2017