Let's Play Monaghan booklet launched
Monaghan Sports Partnership has launched a new family fun games & activities booklet. The booklet is a compilation of traditional and new games and activities that encourage children and adults to be more active at home through fun play.
Some of the games and activities chosen require little equipment and many use household items as alternatives to specific equipment.
The games and activities selected are adaptable for various ages and ability levels so there's something for everyone.
From yoga stretches, chalk games, skipping, cycling, and ball games to 'old school' games that we are familiar with, the booklet will be a fantastic resource for ideas for families at home – especially during the current time.
For anyone planning a family break away in Ireland, they can even bring the booklet along for ideas for children when away from home.
The booklet has been produced as a result of funding received from the Healthy Ireland* Fund and Monaghan Sports Partnership has also put together play packs through a combination of Healthy Ireland Funding and, as reported last week, National Play Day funding. The initiative supports proposed action on the Government-led initiative of 'Let's Play Ireland.
The play packs of equipment and an activity booklet will be distributed to targeted families in Monaghan via family support services to support their needs at home.
However, there are extra supplies of the booklet alone that any family can avail of. If you would like a booklet please contact Monaghan Sports Partnership at 042-9755126 or by email to info@monaghansports.ie.
The booklet is also available to download at www.monaghansports.ie  or Monaghan County Council website at www.monaghan.ie 
Let's Play Monaghan Games & Activity Booklet (PDF)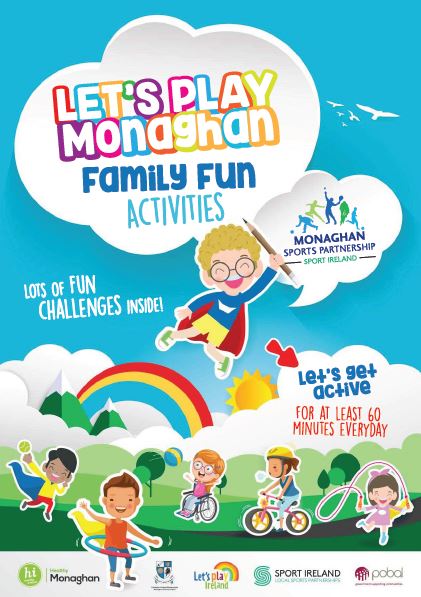 * Healthy Ireland is a government-led initiative aimed at improving the health and wellbeing of everyone living in Ireland.
* Let's Play Ireland is a government-led initiative aimed at promoting play for all children living in Ireland during the COVID-19 emergency.