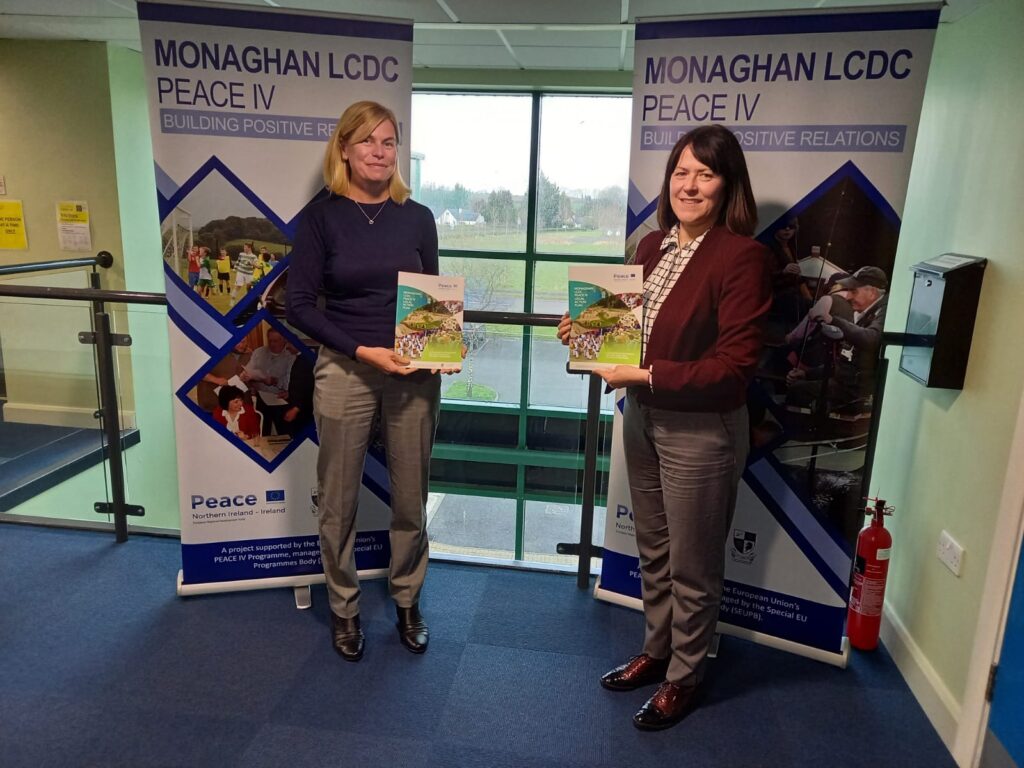 To mark the completion and achievements of Monaghan County Council's, €3m, PEACE IV funded, Local Authority Action Plan, a special booklet has been released.
 The booklet features a number of key projects delivered under the plan, including case studies and a collection of images.  Detailing the programmes achievements and outputs. The booklet is available online at https://monaghan.ie/communitydevelopment/peace-iv/ or copies are available by emailing npayne@monaghancoco.ie
Funding for the Action Plan was provided by the European Union's PEACE IV Programme, which is managed by the Special EU Programmes Body (SEUPB). Match-funding was provided by the Executive Office in Northern Ireland and the Department of Rural and Community Development in Ireland.
Commencing in 2017, the Action Plan delivered four projects under the theme of Children & Young People, involving over 800 participants (aged between 3 and 24 years of age). Project themes were diverse and included youth resilience, outdoor pursuits, diversity awareness, active citizenship and creativity and understanding our shared history.
It also delivered three projects under the Shared Spaces and Services theme which included: a multi-use games area at Mullaghmatt, a children's play area at Rossmore Park and the redevelopment of Clones Post Office into a home for the arts. A small grants programme supported seven community led projects. These included a small astro turf area, a community garden and renovations to community halls.
Furthermore, it delivered five projects under the Building Positive Relations theme. Projects covered a range of distinct themes including an intergenerational project, cultural awareness programmes, diversity awareness and active citizenship. A small grants programme supported six peace building projects developed and led by community groups. These covered a range of areas including documenting accounts of ex-prisoners, cultural awareness, documenting stories of life on the border and understanding of minority faith communities.
Minister for Rural and Community Development, Heather Humphreys TD said: "I am delighted that my Department of Rural and Community Development was able to partner with the Northern Executive and the Special EU Programmes Body in providing support for these essential projects and initiatives that promote positive relations between people from all backgrounds.
Monaghan County Council secured over €3 million under the European Union's Peace IV programme to deliver the Local Action Plan for the district and I would like to commend the collaboration, hard work and dedication between the project partners, including Cavan Monaghan Education & Training Board; Clones Erne East Sports Facility Management Company; County Monaghan Community Network, Monaghan Integrated Development and Monaghan County Council."
Reflecting on the achievements of the Councils Action Plan, Gina McIntyre, Chief Executive of the Special EU Programmes Body said: "In recent years significant progress has been made to help us overcome issues associated with our shared past. However, many people still experience high levels of sectarianism and racism within our society with little or no opportunities to positively engage with each other.
"The EU PEACE IV Programme was designed to help change this with a significant amount of funding provided to local authorities across Northern Ireland and the border counties of Ireland, who have direct access to address local community needs. Monaghan County Council's PEACE Action Plan is a great example of this as it has encouraged better community relations, built and improved shared spaces for all and invested in our children and young people; encouraging them to become active citizens and positive agents of change."
"I would like to congratulate all of those involved in delivering and participating in the wide range of programmes that this Action Plan has afforded." she continued.
Patricia Monahan, Director of Service at Monaghan County Council and Chair of Peace IV Partnership Board said, "The Monaghan LCDC Peace IV Action Plan has continued the good work of previous peace programmes by delivering activities with a focus on peace building, community engagement and community cohesion.  It is important to recognise the contribution made by the members of Monaghan LCDC and its Peace IV Partnership Board.  I would also like to acknowledge the work and support of the SEUPB and both match funding departments."
For more information on this PEACE IV funded Action Plan please contact Nicola Payne, Peace Programme Manager with Monaghan County Council 047 30500 or email: npayne@monaghancoco.ie
For more information on the EU PEACE IV Programme, please contact John McCandless, Communications Manager with the SEUPB via mob. 07841 367052 or email: john.mccandless@seupb.eu