Work Matters At The Library
Are you looking for a job or a career change? Are you thinking of starting your own business? With professional staff and access to a broad range of services, the library is a place to explore, connect, research, study and learn new skills. Work Matters is a pilot national initiative and offers services at Monaghan, Clones and Carrickmacross Libraries. This service is a partnership initiative of Monaghan Libraries and Libraries Ireland supporting business start-ups, job seeking and career change.
We've recently joined forces with Ann Greene from Support Coach to bring you a mini-series looking at various elements of Job Seeking & Career development.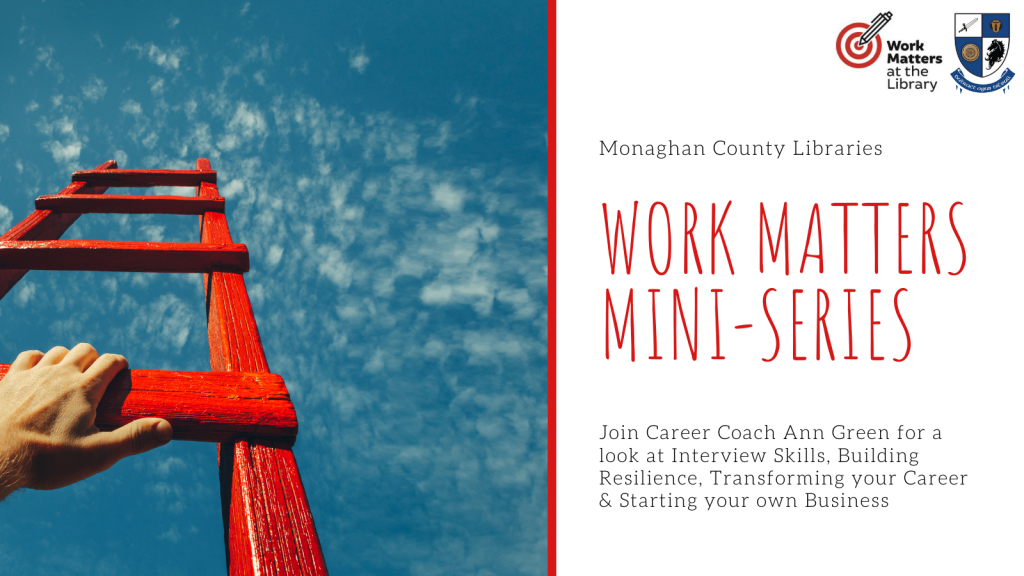 What we offer:
• Free library membership
• Professional staff to provide direction and help with your research
• Wide variety of books tailored towards aiding careers including books on how to write the perfect CV, business tips and developing new skills.
• PCs and Internet access and free Wifi
• Printing, scanning and photocopying. Monaghan Library has a mobile printing service, allowing users to send print jobs into the library printer in advance of their visit
• Meeting room space, study & research space
• Online learning – services with access to over 500 e-learning courses and e-languages
• Business and employment books, eBooks, eAudiobooks, journals, newspapers, magazines, trade journals, reports and scholarly journals. Check out our Online Services for full details
• Online catalogue with access to items nationwide
• Workshops, presentations and networking opportunities
• Computer Courses
• Dedicated Work Matters laptop to research business ideas or look for job vacancies
• Market Research and Company Information
• Space for meetings, study and research
• County development plans
• Government Information
• Workshops, presentations & networking opportunities
Business & employment related books, newspapers, magazines and information leaflets are available. Topics covered include job seeking, CV preparation, interview skills, entrepreneurship, digital marketing, business planning, marketing and PR, HR, accounting and health and safety.
Online resources for Business can be found at https://www.librariesireland.ie/services/work-matters#Business
Online resources for Jobseekers can be found at https://www.librariesireland.ie/services/work-matters#Employment
For further information of Work Matters, visit: https://www.librariesireland.ie/services/work-matters